Glasses
No matter how many different kinds of eyewear your lifestyle demands, you can always count on one place to have them all-the Brisbane Vision Centre.
Your eyes couldn't be in better hands.
Designer Sunglasses
You will find the Latest Styles and Brand Names for every member of your family. Prescription sunglasses available 
Eyewear 
We take pride in having one of the largest frame and sunglass inventories available at our office, but now you can browse thousands more frame styles at our Online Optical Store! Just click here. We will ship your glasses directly to you, with no shipping charge in many cases! As always, our staff is just a phone call away if you have any questions. 
Low Vision-Enhancing Aids 
Get Your Life Back from Macular Degeneration, Eye Diabetes, Glaucoma and Stroke. We will expertly prescribe your vision-enhancing aids and  ONLY licensed, board certified low vision therapist, will retain your independence to read, see TV, computers, faces and even drive.
Drive wear Lenses
From bright sunlight accompanied by intense, blinding glare, to overcast conditions, drive wear lenses are capable of sensing and reacting to varying light conditions both outside and behind the windshield of the car.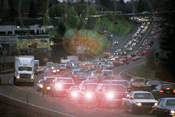 With Glare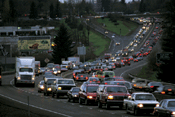 Without Glare
Maximize the size of TV screens with the easiest-to-fit, binocular, telescopic distance system ever introduced - Max TV Glasses! These hands-free, head-mounted glasses provide 2.1x magnification AND can be adjusted so that each eye lens can be focused separately, making the system adaptable to most people!
The glasses will focus on objects from distances of 10 feet to infinity, and are perfect for watching TV, sporting events, movies, theatre, bird watching, or any other distance viewing activity in which a magnified image would be helpful.
With flexible temples, the Max TV telescopic glasses are the most comfortable television viewing device ever. Don't rush out and spend thousands on a large screen TV - try the 
Max TV first!
Features Include:
bright, wide field of view and over twice the magnification
individually focusable lenses to correct for most glasses prescriptions that allow for adjustment of focal length from 10' to infinity
high calibre optics and flexible plastic temples allow for light weight (only 49 grams - or 1.7 ounces!) with an extremely comfortable fit
attractive, modern, hi-tech frame
frosted objective lens housing eliminates distracting reflections
moulded bridge, with no sharp edges, makes the system comfortable to wear, even for long periods of time
protective, sturdy, zippered case and head-strap included at no additional charge
Night Vision-Enhancing Aids  
Safer Night Driving Vision by Eliminating Headlight Glare with Glare-Free Lenses, also Available in Prescription
Choosing Frames
Eyewear that's a Perfect Fit: Whether you're searching for a particular frame style or simply browsing, you're sure to find eyewear that's ideal for your face, and your prescription in our Online Optical Store. Below are some tips to take the guesswork out of ordering. 
Knowing Your Frame Size: When selecting eyeglasses or sunglasses online, it's helpful to know what size frame you wear. You can find this information easily by looking at a pair of frames you currently own or by asking one of our opticians. If you already have a pair of frames you'd like to purchase again or if you're looking for something similar to your current glasses, you can quickly identify the designer name, model number and frame size by looking on the inside of your eyeglass temples (arm pieces). Below you'll find a quick guide to help you identify this information.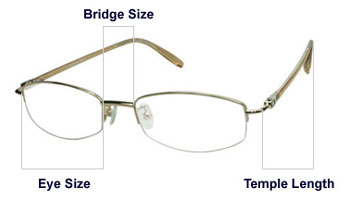 Already Wear Glasses? Your current pair will likely have your frame size information imprinted on the arm piece or the back of the bridge.
Lens Options - Technologically Advanced Lenses at a Fair Price
Progressive Lenses - No-line bifocals offer continuous, uninterrupted vision for distance, reading and everywhere in between. Your eyes make a smooth transition between vision zones with no "jump" or distracting lines. 
Progressive Lens Formula - Our precise and reliable formula makes it simple to order progressive lenses online - all we need is your prescription and a pupil distance measurement. 
Plastic Lenses - Plastic is the most commonly used lens material on the market today. Lighter and more durable than glass, plastic lenses can be molded and ground into almost any shape and will work with almost all prescriptions. 
Polycarbonate Lenses - For the safest eyewear, polycarbonate is the lens material of choice. These sturdy, impact resistant lenses are highly recommended for children's eyewear, safety glasses and for rimless frames that require drill mounts. 
Hi Index 1.67 Lenses - Using the highest index of refraction, 1.67 lenses are up to 60% thinner than normal lenses and have superior anti-reflective lens coatings. 
Hi Index 1.74 Lenses - 1.74 Hi index lenses are the absolute thinnest and lightest lenses available. They're 13% thinner than 1.67 lenses and are the most cosmetically appealing eyeglass lenses ever developed. 
Oakley Lenses - Oakley prescription lenses are lightweight, offer unsurpassed impact protection and incorporate their patented XYZ Optics® that provide razor-sharp vision at every angle. 
Anti-Reflective Lens Coatings - Anti-reflective coatings have quickly become a "must-have" for any pair of lenses. By reducing glare, anti-reflective coatings make the lenses "invisible" in pictures and reduce eye strain for computer users and night drivers. 
Transitions® Lenses and Drive wear® Lenses - Photochromic lenses respond to UV rays by automatically changing from nearly crystal-clear to sunglass-dark. These lenses come in several colours and are an excellent choice for full-time eyeglass wearers who spend a lot of time in varying light conditions.